Invitation to Meet Raisecom at FutureCom 2023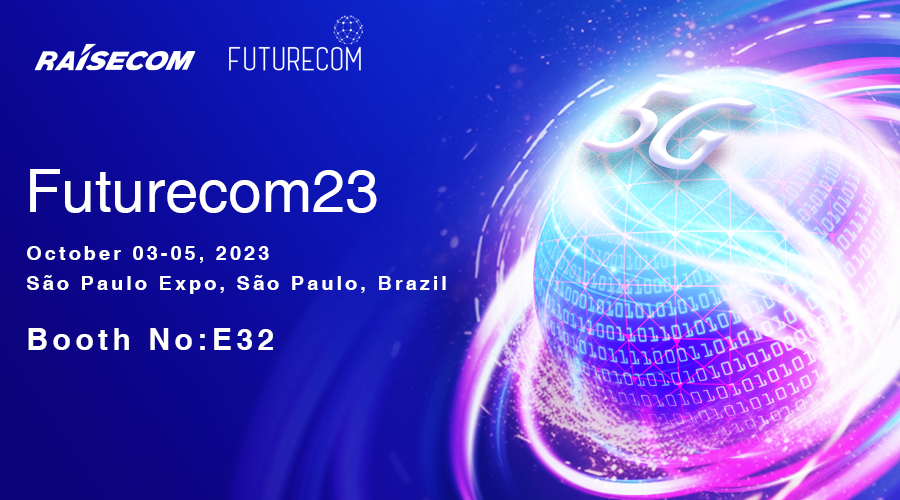 We are pleased to inform you that our company will be present at the Futurecom 2023 from October 03rd to 05th at São Paulo Expo. We are delighted to extend a cordial invitation to you to learn our latest and diverse products. We hope to see you at stand E32 and get in touch with you. Our stand will also feature:
Optical Transport Network

iTN8200 is a new generation DWDM/OTN platform with up to 3.2T capacity. It offers 400G per-lambda capacity and integrates optical cards including EDFA, ROADM, OCM, OTDR and OLP for metro optical transport and data center interconnect applications.

IP/MPLS Provider Edge Aggregator

iTN8800 and RAX series are modular and compact designed PE Aggregators, featured with MPLS, SRv6, EVPN, dynamic routing OSPF, IS-IS, BGP, MP-BGP, as well as SyncE and Carrier Ethernet functions, delivering L2/L3VPN, mobile backhaul, as well as xPON backhauling solutions at 100G/200G speed.

Next-Generation Broadband

ISCOM6800 series NG PON OLTs provide high-density Combo PON interfaces for providing GPON, XG-PON and XGS-PON differentiated FTTx broadband access from 1G/2.5Gbps up to 10Gbps for residential and business subscribers.

4G/5G Integrated Small Cell

RCNB series integrated 4G/5G Small Cell base stations provide compact, cost-efficient and convenient solutions for mobile operators to provide better 4G/LTE and upcoming 5G wireless network coverage for outdoor rural areas and improve use experience in hot spots.

Multi-Service Access Platform

iTN221 and iTN8600 series Multi-Service Access Platforms are featured with legacy PDH/SDH, PTN/Ethernet and OTN cross-connection fabrics simultaneously, providing smooth migration of TDM to future-proof packet networks for carriers and vertical industry operators.
We are looking forward to meeting you at the exhibition soon, BOOK now to make an appointment with us.